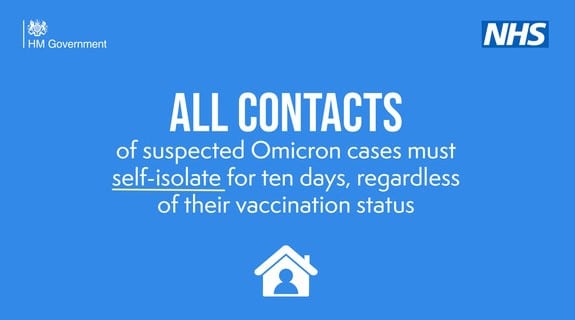 All contacts of suspected Omicron cases? They don't have to be confirmed now? We are sleep walking into a police state.
How severe are the symptoms from the new Covid variant, Omicron? According to the doctor who first detected it in South Africa, its symptoms are 'extremely mild'. She accuses the UK – and now, by extension, much of the rest of the world – of 'panicking unnecessarily.'
At the time of writing, fourteen cases of the new variant have been detected in the UK out of population of 64 million. As a result of just three of these, England has been returned to mandatory mask wearing by a prime minster and health secretary, Sajid Javid. The pair promised back in July that the lifting of restrictions would be 'irreversible'. There were no provisos on this promise – no 'unless another variant appears' get-out clause. We were fools for believing them, this government of panickers, flounderers and trashers of civil liberties.
This time round Boris Johnson is imposing mask wearing while travelling on public transport, in hairdressers and shops and in a variety of other locales. The virus, however, is apparently unable to penetrate restaurants, pubs, cafes, cinemas and theatres so mask wearing is not required there. And quite rightly too. It should not be mandatory anywhere. Politicians and the scientists who advise them are well aware of the extremely limited way that masks protect others from the droplets in your breath.
A doctor explores the efficacy of masks.
Yet still they impose such a mandate, this time with a £200 fine for the first 'offence' of failing to wear a mask in the specified locations. If masks were effective, then Scotland, which unlike England did not dispense with them back in the summer, would have fewer cases of Covid than England. In fact, it has considerably more. Likewise Germany, which imposed the compulsory wearing of high standard FFP-2 surgical masks back in January. Meanwhile mask-free England (free that is until yesterday) has seen cases and hospitalisations falling.
Whenever I write about the pandemic – which some scientists now regard as coming to an end, despite the predictable winter increase in cases – I receive fewer likes than when I write about Christianity. That may be because I address the Covid situation primarily as it affects the UK. But it might also be because I question the received narrative; that we must panic, must wear masks to protect ourselves and others, must protect the health service that exists in reality to protect us. I'm no conspiracy theorist; as I've explained before, incompetence more readily explains governments' actions this past two years. Crediting them with the intelligence and deviousness necessary to perpetrate a worldwide conspiracy is truly beyond them. But it is nonetheless alarming to see the extent to which they have deprived us of our civil liberties. Overnight, we can be imprisoned in our own homes if we are in contact with someone who suspects they may have Omicron and fined if we don't, while not wearing a mask has become a crime. The police, having nothing better to do, say they will be hanging around England's transport hubs and shopping centres to challenge and fine those not wearing face coverings.
Further indication that politicians really do not know what they are doing comes from their making available the booster vaccination to all over 18 year olds a mere three months after their second shot. Boris Johnson said yesterday that the booster will, while the second vaccination is supposedly still offering its own protection, 'undoubtedly' save them from Omicron (with its very mild symptoms).
Do we know this? We do not. Vaccine producers have begun tests to see if it so. Injecting all and sundry is merely more panic, not to mention a political ploy to make us think they're actually doing something. They aren't. Why are politicians surprised that the populace has lost all faith in them, does not believe a word they say and, when it's not engaging in government and media induced panic, is ignoring their ever conflicting messages, empty rhetoric and false promises?
I have had my three shots, plus one for flu. The vaccine is demonstrably the most effective way of minimising Covid and the variants that have appeared so far. It may well be the only way. Nothing else we have done has held back the virus. Scotland now has what appears to be a home-grown version of Omicron, not one that came from outside the country (those masks really worked!) and even those countries that have undergone extreme lockdowns discover it's among them once they re-open: Omicron has been found in the perpetually locked down Australia. Variants will be around for a long time to come. Governments cannot continue to impose sanctions every time a new one emerges. If they do, they and we will be playing this ridiculous circle game forever.